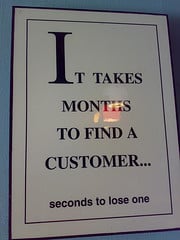 If you're considering implementing an online order management system, you're probably aware of all the ways that it will improve your process. It will greatly reduce order entry and the time spent responding to routine customer service inquiries, increasing efficiency, reducing errors, and eliminating duplicated work.

An online order management system doesn't just benefit you, though. It also benefits your customers. The system will give them a quick, convenient, and 24/7 way to place orders without having to call or email your staff, or fill out old-fashioned Excel or Word order forms. They'll have instant, online updates on the status of their orders, and they'll have greater confidence that their orders will arrive on-time and with the correct items. An online order management system also makes your company look more professional in the eyes of your customers.

Businesses who implement an online ordering system often say that their customers experience a more efficient and convenient ordering process. That increases customer satisfaction and loyalty. By implementing an online system, you're improving your customers' businesses as well as your own.
Here are three ways they benefit: