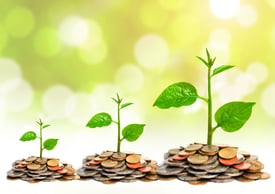 As a standalone, QuickBooks does have some limited order management abilities. However, to take your business to the next level, you really need to consider order entry software that is designed to improve your bottom line. Software that is web-based, designed for B2B, provides customer and sales rep portals, and integrates with your existing QuickBooks can have a huge impact on your wholesale business' profitability and efficiency.
What Return Do You Get with Order Entry Software?
Reduced back-office costs – As you grow, your data requirements grow. You have more to track, more inventory to manage, more customer service needs, and more information to enter. Order entry software can automate much of this, reducing time and manpower required. With QuickBooks integration, data is entered automatically where it is needed. Not only does this reduce employee time spent with repetitive data entry, it reduces or eliminates costly errors that occur with manual entry. There is no more guessing with poorly handwritten sales forms, or blurry faxes. One misplaced comma, or a single transposed number, can have devastating results for your business.
Increased Customer Satisfaction – Web-based order entry management software can provide the tools necessary to allow your customers to create and manage orders themselves. This frees your customers from having to call you for many of the questions typically required of your sales support. This reduces frustration for your customers and frees your employees to focus on helping your business grow. Knowing that errors are reduced or eliminated, and not being tied to your business hours, gives your customers confidence that you are able to meet their needs.
More Productive Sales Reps – Obviously, the more productive your sales reps can be, the more sales you will have. Order entry management software has tools that make the job easier for your sales reps. Since customers have access to their information, many questions that reps would have to track down are eliminated. Your sales reps have access to their customer accounts and can create detailed reports to better understand the needs of your customers. They have more time and information to tailor effective sales presentations.
Faster Order Fulfillment – Because so much is automated, and customers and sales reps are not tied to your office hours, orders can be made and delivered faster, and with fewer errors. Inventory can be efficiently managed, and detailed reporting can spot trends and customer needs, allowing you to be ready to meet them. This also increases customer satisfaction.
Order Entry Management Software Offers Great ROI
The ROI (Return on Investment) that an order entry management system provides is much more than monetary gains. Your employees are able to focus on being productive and will be happier and more efficient. Your sales reps will be able to do their job better, making them happier and more efficient. Your customers will be happier and more satisfied, leading to greater customer loyalty and retention. It is far less costly to keep a customer than it is to find new ones. An order entry management system allows you to do both effectively, bridging the gap between your back-office and your customers, while greatly improving your bottom line.