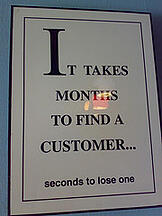 If you're considering implementing an online order management system, you're probably aware of all the ways that it will improve your process. It will greatly reduce order entry and the time spent responding to routine customer service inquiries, increasing efficiency, reducing errors, and eliminating duplicated work.

An online order management system doesn't just benefit you, though. It also benefits your customers. The system will give them a quick, convenient, and 24/7 way to place orders without having to call or email your staff, or fill out old-fashioned Excel or Word order forms. They'll have instant, online updates on the status of their orders, and they'll have greater confidence that their orders will arrive on-time and with the correct items. An online order management system also makes your company look more professional in the eyes of your customers.

Businesses who implement an online ordering system often say that their customers experience a more efficient and convenient ordering process. That increases customer satisfaction and loyalty. By implementing an online system, you're improving your customers' businesses as well as your own.
Here are three ways they benefit:
1) They can place orders on their schedule. Between managing employees, servicing customers, and marketing their business, most business owners are working on a very tight schedule. Taking the time to call or email your sales staff or meet with a sales rep can be challenging. If you are selling to restaurants or retail stores your customers may be ordering during the evening or on weekends, so they will especially appreciate the up-to-date info available on a wholesale portal that continually syncs with QuickBooks.

Using a system that allows customers to log on at their convenience and quickly choose the items they want to order goes a long way for customer service. If they place the same order on a regular basis, they can use a reorder feature which duplicates previous orders. The whole process takes a matter of seconds. So alleviate this challenge by implementing a system that allows your customers to place an order anytime.

2) They can check their order status at any time. One of the biggest challenges a business faces is managing their inventory. On one hand, they want to have enough inventory available to service their customers. On the other hand, they don't want to have inventory piling up on their shelves. There's a critical need to know with confidence when inventory will arrive.

An online ordering system can meet that need by providing instant, online access to the order status. The customer can login to the system and instantly see ship dates and tracking numbers. That allows them to more accurately plan their orders and manage their inventory levels. It also allows them to confidently tell their customers when specific items will be available.

3) They have a higher probability of receiving the correct order in a timely manner. Nothing will erode your customers' trust more than making errors on their shipments and invoices. If it happens once, that may be forgiven as a simple mistake. However, if it happens repeatedly, your customer is likely to start looking for alternative options.

An online order management system with warehouse integration can send the order directly to your third party warehouse. This reduces the probability that an error will be made. The less people who handle the order information, the lower the likelihood for human error.
The improved transmission process of the order information to the 3PL can also speed up the process. The warehouse may get the information sooner, and may result in the shipment going out sooner.

Most businesses are looking to work with partners who can help them be more profitable. You can certainly do that by offering a great product or service, but you can also do that by making it easy for them to work with you. An online order management system does just that. It's an easy and effective way to improve your customer relations. We would love to hear of other ways you have improved your customer relations; just fill out a comment below. And if you would like to learn more about our product, then just request a free demo below!
Photo Credit: jm3 via Flickr