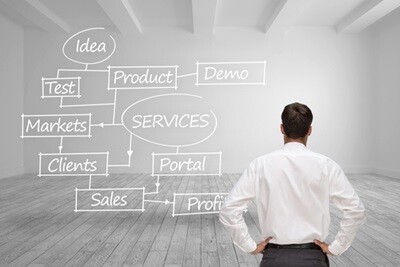 Online ordering systems set sales reps up for success by enabling them to do what they do well: sell. An online ordering system will give your sales reps the tools they need to manage their accounts quickly and effortlessly by giving them access to important customer account information. This in turn allows them to focus on strengthening relationships with their customers and increasing sales.


Here are six ways sales reps will benefit from an online ordering system.
1. Data at Their Fingertips
By accessing your core business software, such as QuickBooks, an ordering system will give sales reps instant access to a wealth of information. Customer profiles in the database house customized order forms and pricing, along with payment information and order history.
Should a sales rep need specific information about a customer order, the data is available with a few clicks. Without a dedicated system, retrieving information about a specific product or inventory status could cause order delays. The sales rep would most likely need to call the home office to get this information. With an online ordering system that integrates with your accounting software, all the data needed will be available to the sales rep instantly.
2. Minimize Customer Errors
Sales reps also often double as customer service representatives. They are responsible for making sure customers are satisfied with their orders and address any errors or complaints.
An online ordering system can greatly reduce how much time your sales rep spends on customer service tasks. By entering the order into the online ordering system once, you eliminate paper orders and greatly reduce errors that could happen by reentering the order again into your accounting software.
Fewer errors on customer orders greatly reduces how much time sales reps spend on such tasks. Fewer order and shipping errors also boost customer confidence and allows your sales reps to shine.
3. Stay on Track
Meeting and exceeding sales budgets and goals are an important part of a sales reps job. Sales reps can track their progress within an online ordering system. With a few clicks, sales reps are able to view reports by customer, product, and sales, among others. They can easily see how they are trending for the month, quarter or year giving them increased motivation to work their sales pipeline.
4. Always Informed
Giving sales reps access to all their customer's information allows them to be informed with up to the minute information when they are in a customer meeting or on the phone. With access to customer specific pricing, order history, current inventory levels and tracking information, they never have to keep the customer waiting for answers.
5. Customized Product Catalogs
Having a customized order form for each of your customers allows a sales rep to quickly produce a product catalog for each customer. Sales reps can use the ordering system instead of a traditional product catalog. Walking in with a tablet or computer is clean and efficient and with full size images of your company's products will be more eye-catching than a paper catalog would be.
6. Faster Service
Finally, an online ordering system will let your sales reps complete the sales cycle faster. When on the road, meeting with a customer, they can easily enter an order on the spot and see that it has been received at the office. An online system will show the rep the status of their orders as it travels through the fulfillment process.
Online ordering systems eliminates delays, frees up inside sales staff, reduces errors, speeds up the sales cycle and gives sales reps the opportunity to shine. By streamlining the entire order process you set your sales reps up for success helping them sell more easily, increasing your company's revenue.