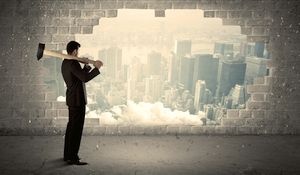 QuickBooks order management is limited to use within the organization. The popular on-premise accounting solution has many benefits for SMBs, yet an on-premise solution does have limitations. With recent upgrades and a hosting option offered by QuickBooks Enterprise, internal users have more flexibility and accessibility, yet it still lacks functionality for independent sales reps and B2B customers. With that said, let's discuss the benefits of upgrading QuickBooks order management by integrating it with software-as-a-service order management.
QuickBooks Enterprise with Hosting
Some may wonder what's the difference between QuickBooks Enterprise with Hosting and QuickBooks Online? The main difference is QuickBooks Enterprise with Hosting is designed with advanced functionality, for SMBs managing more complex operations from multiple locations. QuickBooks Enterprise with Hosting is an on-premise solution that's accessed through a remote access desktop, while QuickBooks Online is accessed directly through the browser.
Which SMBs Need an Order Management System Upgrade?
For many SMBs, QuickBooks Enterprise with or without Hosting provides enough functionality for their order management needs. The main businesses that need a QuickBooks order management upgrade are SMBs with large inventories such as: manufacturers, wholesalers, and distributors – those who have mainly B2B customers.

For these SMBs, QuickBooks Enterprise is doing a great job with their accounting, inventory control, and reporting needs, yet their order management system is lacking functionality and accessibility for independent sales reps and B2B customers.
Is a SaaS Order Management System Upgrade Worth the Cost?
Manufacturers, wholesalers, and distributors are dependent upon their B2B customers for sales, so it makes sense for them to focus on enhancing this area as a priority. Yes, QuickBooks Enterprise facilitates smooth flowing workflow processes, but this won't matter if the sales aren't in the system. Getting sales entered into the system enables these process efficiencies. So, even though SMBs are hesitant to add an additional monthly subscription cost to their QuickBooks Enterprise monthly subscription (and whatever other systems they have), we can conclude a SaaS order management system upgrade is worth the cost.
Benefits of a SaaS QuickBooks Order Management Add-On
Upgrading your QuickBooks order management system with a SaaS add-on to QuickBooks, provides many benefits such as:
Ongoing Support
Free Set-Up
24/7 Access for B2B Customers and Independent Sales Reps
Automated QuickBooks Two-Way Integration
Real-Time Inventory Pricing
Customization Setting for Each Customer
Customer Portal with Order History, Shipping Status, and Setting Controls
Inventory Pictures with Real-Time Availability
Advanced Order Ability
Sales Rep Portal with Filtered Customer Accessibility
Automated Warehouse Integration for Shipping and Inventory Controls
These are some of the main features a SaaS order management add-on to QuickBooks Desktop gives SMBs. Ultimately, SMBs will enjoy the benefits of having accelerated sales from satisfied customers and easier workflow processes for sales reps and team members.
The Need for a QuickBooks Order Management System Upgrade
Cloud and mobile computing technology are changing the way businesses operate and how customers shop. B2B customers are using mobile technology more and more to place orders, and are in need of partners who offer streamlined ordering systems to integrate with their growing cloud based systems. Basically, manufacturers, wholesalers, and distributors have to meet their B2B customers' expectations, because these B2B customers have to meet their own B2C customer expectations.
The good news for SMBs is there are simple solutions that fit into their lean methodologies. Using a SaaS order management system add-on, specifically designed for QuickBooks, provides the upgrade needed to meet B2B customer expectations – at an affordable monthly price. In addition to meeting customer expectations, SMBs will enjoy streamlined and automated processes, greater accessibility, and enhanced ordering capabilities.
Although technology is changing the way businesses operate technically, meeting customer demand is still an important tenet of business philosophy. And although the technological world is advancing rapidly, SMBs can still find simplified solutions to fit their lean methodologies. In the case of upgrading their order management systems to accommodate B2B customers, SMBs are presented with a necessary upgrade to invest in.