The new year is here – and with it, the continual march of technology.
Unfortunately for many small business owners, they never really have the time to try and take advantage of new technology. Who has time to learn a new platform every year? Who has time to troubleshoot and look up potential new technologies that a small business owner could use?
QuickBooks does what you need it to do, and you and your team are comfortable using it. Your employees take orders from phone calls, emails, and faxes, and while it's not the fastest to have to enter them in to QuickBooks, at least it works.
In the new year, however, you might not be able to get away with "well, at least it works." Not if you have more business than you used to, or if you want to get more business. Your team is having a harder time getting home on time, and no one has the time to deal with the thorny problems your business has been facing lately.
Everyone spends most of their time simply taking and processing your regular orders.
Online order processing sounds nice, in theory, but you're not an online store that can just use a shopping cart.
The problem with most new technology – including the kind that would help you streamline your business - is that it's geared for a type of business that you just aren't.
You don't sell directly to consumers – you're not a B2C company. That's precisely why you have such a difficult time finding something that'll allow your B2B customers to order online.
You sell to other businesses, and as such, your business runs on a different model for payment. You offer different terms for that payment, such as net 30 terms or cash on delivery. This means you need a system that allows you to generate invoices to accommodate those terms and…that brings you right back to just using QuickBooks and taking orders by hand.
You don't have a single price for every single item – maybe you offer quantity discounts, or maybe each company you sell to gets their own, specially negotiated prices. As such, each account has unique pricing that you have to keep in mind. You've configured that in QuickBooks, but the idea of creating a shopping site and list for each of your clients gives you a headache just thinking about it.
You might also have sales reps who own specific territories or customer lists. They need to be able to check pricing, inventory, and order history. They need to place orders for clients, and see backorder info, too..
Because all of your accounting and inventory management take place in QuickBooks, you really just need something that works seamlessly with that software.
Oh, and we can't forget that your warehouse needs to be able to access the orders so they can fulfill them.
What QuickBooks plugin or integrated tool can provide that?
None of them.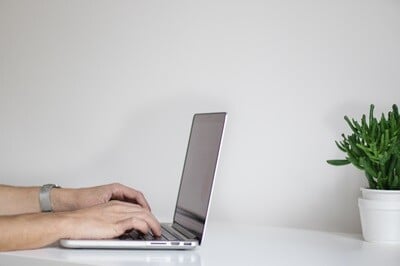 The Catch-22 For Most Small B2B Business Owners:
You're trapped in an endless loop of taking orders to keep your business running, but never having the time to get ahead. You have bigger projects that you and your office team need to work on, but no one ever has the time to tackle them. Instead, whoever manages to finish invoices first tends to chip away at them, which is hardly the most efficient or effective way to handle a big project or problem.
One of those big projects you never seem to have the time to tackle is finding a way to provide an online ordering system for your customers to utilize. It's something you've thought about before, but most online ordering systems offer plugins or shopping carts that work with a proprietary shopping cart platform, like Shopify. That just doesn't work for you.
You need something designed to integrate with QuickBooks, something that'll automate your order processing. It's not the simple one step order placement that an online shopping cart can provide – you have a lot more going on behind the scenes.
And that's why you can't be bothered testing out yet another new app or plugin to try and meet your wholesale or distributor business needs. It's a lot of wasted time and a lot of wasted effort for minimal or no results.
You'd love to be able to just review your orders with a glance, and let your warehouse fulfill them. No more double entering, no more calls just to place simple orders, you just review what your customers enter in their online B2B order portal.
Automatic Processing of QuickBooks Orders is Actually Possible.
Sometimes, the most helpful technology is one that makes all of your other technology work well together. Something that removes potential for error each time someone has to copy information from a handwritten, faxed order, or an email, or a phone call – something that automatically processes those orders for you.
That's where an online ordering portal, designed specifically for use by companies like yours, comes in handy. You just haven't known where to look for one, or how it'd really integrate with your current method of processing orders.
Imagine this:
Your customers know how to find your website. Instead of calling, faxing, or emailing you their orders – they just visit your site.
From there, on your site, there's a link to a customized, online ordering portal that they can then log in to. It's got your logo, your brand colors, it's clearly a portal for your company, not a plug-in app or shopping cart promoting its own branding.
They log in, they place their orders.
Orders are priced according to their negotiated prices, and they can take the time to place those orders at their convenience.
The order is processed based on what you've already set up in QuickBooks, and you just review it prior to continuing it on the path to fulfillment.
No more calls taking up the time of your office staff, no more handwritten faxes, no more deciphering typo-ridden emails.
Just invoices processed and ready to go.
It's not wishful thinking. Now Commerce offers just such a portal – one where your customers enter their own orders, the software automatically processes them, and all you have to do is review them.
Your business has unique needs and unique concerns, something that we at Now Commerce are extremely aware of. We work with hundreds of businesses, and while none of them are exactly the same – our online ordering system is adaptable enough to work for any B2B company that uses QuickBooks.
You don't have to take our word for it – our customers are happy to tell you themselves.
The reason Now Commerce works so well is because it acts like a robot, doing the routine work your office staff used to have to do.
Your customers place their own orders, the robot (Now Commerce's online ordering portal) processes the orders, you quickly review them, and the fulfillment process starts.
It is a massive chunk of time for your office staff that no longer needs to take up their entire day.
Your office team can focus on the big problems, or on tasks that no one ever had the time to tackle before. Your sales reps still get the routine orders, but they can now focus on the upsale, or on acquiring new customers.
Want to see it in action? Request a demo by clicking below: