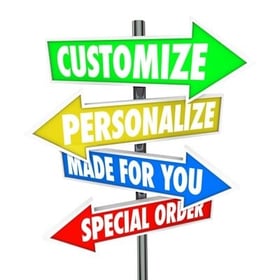 B2B e-commerce has long needed some reinventing to become more personal and customized for buyers. The relationship between B2B companies and buyers still has a tendency toward formality to allow any loyal friendships. Loyalty in buyers is no doubt important to you and your own B2B company, especially when you have to rely on those customers when buying season slows down.
In the realm of e-commerce, you can do this by making the buying process for your customer more of a personal experience. It's been noted that having a strong brand connection between the company and the buyer ultimately drives sales. As such, it should include giving buyers the power to control their own accounts.
Our software here at Now Commerce essentially turn the keys over to the customer to let them have a more personalized shopping experience. This includes complete access to their accounts so there isn't any confusion about whether an order took place, how much inventory is available, what their price is or if an order has shipped.
Take a look at what you can do and how we'll help your relationship with buyers so you retain them for the life of your company.
Searching for Products
Those who buy from you are likely already overwhelmed trying to find products that suit them. If your inventory is large, trying to search for the right one and comprehending all the specs is more challenging than you probably know for your customers. You can make it easier with our software's well-organized customer portal.
You can customize order forms for each of your customers based on what they order. Also, when the customer brings up their order form, it will show them what they've ordered the last 3 orders. This way when customers search for your products it is better organized thanks to a more intelligent system that categorizes each item based on what the customer has ordered in the past.
A finely tuned search feature isn't typically found in many B2B companies, and it's one reason so many buyers do research in advance so they can determine which product stands out from others. Now they can buy from you in confidence based on a shopping path you've set for them when they're in a hurry to find something specific.
Pricing and Availability
One major frustration for B2B buyers is worrying about the price they pay for products as well as if a particular product is even available. Both can cause frustrating delays for a buyer when they need a product within a short amount of time.
By using our software, customers can easily check pricing based on their particular needs. You can't find this in other B2B e-commerce software, and your buyers are going to appreciate the ability to search for simple answers on their own rather than calling their sales rep or the office.
When you don't have a product in stock immediately, the buyer will already know it and not find out after placing an order. There isn't anything more maddening for your buyers than expecting an order to ship the same day and finding out it's not in stock until days or weeks later.
Accessing Their Accounts
You can make the shopping process easier for your buyers, and they can also check their accounts for the status of their orders. Giving them easy access to their account is important in an age where your buyers are likely on the go and using their mobile devices for everything.
They can travel halfway across the world and still access their accounts about tracking numbers, as well as all other account information. It's a convenient way for you to connect closer with your buyers by giving them individual control rather than you dictating the sales process.
This is the future of B2B e-commerce. Visit us here at Now Commerce to find out more about our software and the extensive features it offers.