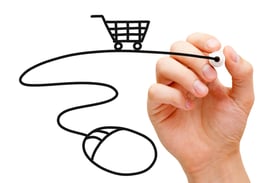 As a B2B company, you won't find the features you need to be competitive, cost-effective, and customer oriented with an ecommerce shopping cart. Shopping carts are designed for the checkout process. You need something that integrates with your back-end systems to provide a customized, feature-filled buying experience for your customers. You need automated operations to reduce customer service costs, while improving customer service by eliminating order errors and inventory issues. A customer order management system, or OMS, refers to software used for order entry and processing. Let's look at some of the things you get with an OMS that you might not get with a shopping cart:
Integrates with Your Back Office
When implementing a customer order management system, you don't want to have to invest money and time in a totally new way of operating. Finding an OMS that can integrate with QuickBooks means you don't have to start over. Your way of doing business isn't drastically changed, it is expanded.
This feature alone is a huge cost and time saver. By eliminating manual entry of data, costly errors are avoided, and less time is required for the back-end processes. You don't need to hire on additional staff for data entry as you grow, and the staff you do have becomes more productive. When a customer enters an order, it automatically populates your QuickBooks database, orders are tracked, inventory is managed, and accurate records are maintained by the OMS.
Detailed reports can be created to help you spot trends, recognize customer needs, and help establish future business plans. Being able to serve your customers better, you gain an edge over your competition.
Improves Customer Relations
An OMS allows your customers to create their own orders, and check the status of orders at their convenience. Your customers are not tied to your office hours, or forced to wait while an employee searches for their records to provide information. They have real-time access to their data, anytime and anywhere.
Customizes the Experience
A good OMS can be customized to fit your needs. Your customers have secure sign in, and are only able to access order information and inventory resources that they need. You have control over pricing, inventory, delivery, and how your products are presented for each customer. Ecommerce shopping carts are geared to general use and do not allow this level of control, privacy, and customization.
Improves Your Sales Force
By allowing customers to create and check on orders, the OMS allows your sales force to concentrate on selling your products rather than doing manual data entry. They can use the reporting an OMS provides to spot trends and tailor sales presentations to individual customer needs.
Go Beyond a Shopping Cart with Efficient Customer Order Management
Shopping carts lack too many features that a B2B enterprise requires. It makes sense to implement a system that is easy to manage, allows your customer self-service capabilities, eliminates manual data entry, and syncs to your QuickBooks. You will have happier, more loyal customers, and you can save time and money. For more information on how to implement a customer order system that has these benefits, contact Now Commerce for a demo today.