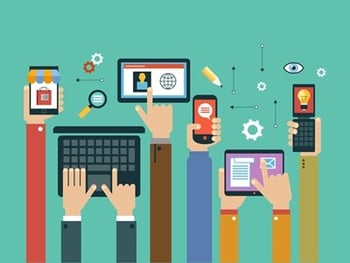 There are few tools that can empower an e-commerce business like order management software. When it comes to running an online business, you will often hear that the hardest part of the process is attracting an audience and driving traffic to your website. While this may be true, digital marketing provides many avenues for traffic generation including content marketing, PPC, SEO, social media, media buys and more. What more businesses struggle with is their order management process and dealing with order volume increases.
Once the sales begin to flow, it can be overwhelming and stressful to manage each order manually. Businesses today need powerful warehouse integration, customer portals and sales rep portals. Each one benefits a business by organizing a different aspect of their order management process and making the process simpler, if not, automatic. The more you could do to automate online order management, the more potential for growth you have.
Warehouse integration for faster, accurate & automatic fulfillment
Warehouse integration could easily be considered the most important part of order management. Very few e-commerce businesses have an in-house warehouse. With the availability of fulfillment services and their low costs, it's becoming easier and more cost effective to outsource the storing, packaging and shipping processes of a business. Services such as Fulfillment by Amazon provide numerous advantages to e-commerce businesses.
Warehouse integration software allows you to connect your store with 3rd party warehouses and fulfillment centers. Regardless of what fulfillment service you use, you can instantly transmit shipment requests immediately upon receiving an order. Automatic transmission eliminates data entry errors and delayed shipments, improving the customer experience and streamlining order management. Shipment confirmations are instant and you and your customers will be the first to receive tracking information. Warehousing integration software caters to 3rd party warehouse file requirements and specifications as well.
Customer portal for online ordering and order statuses
A customer portal can be a complete B2B ordering system, allowing for online orders, customized prices and even complex order forms for capturing data and valuable information from customers. However, where it really shines is in providing an interface for customers to check on past orders, see statuses and shipping information, check on backorders and view up-to-date, real-time inventory levels for products. Being able to check on shipment status and track orders at anytime, from anywhere, is a huge advantage to customers and not every B2B company provides this because they lack customer portal software. Additionally, a customer portal can also be integrated with accounting software such as QuickBooks. This eliminates data entry by utilizing automatic transfer of data.
Sales rep portal for accessing customer account info and sales
Giving your sales reps the tools and resources they need to succeed is incredibly important. A sales rep portal allows you to do just that, by giving your sales reps access to resources like 24/7 access to customer account info and order entry forms. Often times, a sales person receives an order via phone, fax or email and then has to send it to the office to be entered in for shipping. Sometimes the office can't read the order or has questions and has to go back to the sales person. This slows down the entire sales order process. Sales reps need to have the mobility to be able to enter in orders themselves anytime of day, from anywhere.
Sales rep portals also provide the rep with access to order history, shipment tracking and real-time inventory statuses. This enables them to respond back on customer inquiries quickly and with minimal effort. Another benefit is automatic QuickBooks entry and recording of sales under the sales rep's name. Sales reps can easily check on their sales quota for the week/month or year.
There are many benefits to order management software but the key ingredients to a successful order process remain the same: warehouse integration, customer portals and sales rep portals. This gives your team and your business as a whole the resources and tools it needs to thrive. Automating crucial business processes is very important to your growth and ability to scale.