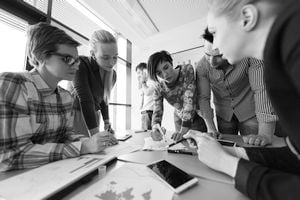 Finding order management software for the small B2B business is challenging because of its unique sales process and user roles. Even though you have a small staff, you need to keep everyone coordinated. Many of you may not be in the office every day, which means you need to have a remotely available and comprehensive view of your sales and other financial details.
Before buying any order management software, it's a good idea to take into account each role in your small company. You, as the business owner, would have the role as sales manager. Next you have the office manager who likely supports your external sales reps.
Then you have your inside customer service staff who may entail only two or three employees. Your external sales staff may comprise a half dozen people who are out in the field.
So how do you get everyone linked up so you prevent discrepancies and time-consuming errors? Through order management software with portals and automation, you'll finally get everyone on the same page so you don't have to schedule constant meetings.
The Sales Manager Role
As the business owner and sales manager, you need to keep on top of everything, though you obviously don't want to consult multiple sources to analyze it all. You don't have to when the order software you use has built-in portals. These are there to help give you a centralized management system for not only you, but also your customers.
It's an online location for all of your employees to access, no matter where they are. Cloud technology makes accessibility truly universal, including from any mobile device.
As the sales manager, you'll use your portal to keep track of customer activity, what they're buying, and how they buy it. You'll also be able to manage pricing and discounts to easily stay ahead of your competitors.
Plus, with customized alerts, you can monitor customers and discount offers and other information during strategically timed moments.
The Office Manager Role
You want to make it easier for your office manager when taking calls from external sales reps calling in to discuss orders. If you're still using a paper-based system to keep track of orders, then you're only giving the manager more stress trying to keep things accurate.
With online portals, they can keep on top of all incoming sales, including e-invoicing, net sales, payments, sales receipts, and credit memos.
Plus, they'll be able to keep track of inventory and pricing in real-time without any delays. This includes account history for easy analysis using thorough metrics.
Customer Service Role
Those who take orders internally in your small B2B business need a simple method to enter necessary information. The best order management software has automation in place so all order data goes into QuickBooks for complete accuracy.
Since customer service needs to maintain relationships with the buyers, giving the latter freedom to access the online portal is essential for placing orders at will. In the portal, they'll be able to check shipping statuses so they know exactly when shipments arrive.
External Sales Rep Role
Your sales reps out in the field need quick access to the same information internal users have. All order management software needs thorough mobile capability so it's easy to read and use. Similarly, outside sales reps need quick capability to enter order information without lags or technical issues.
Two-way integration with QuickBooks solves so many of these issues. As another essential feature, always look for software giving you control over who accesses these portals. You can choose which reps you want to give this freedom to so it's not an open book to everyone.
Visit us at Now Commerce to see how our own order management software works so well for those with small B2B companies.