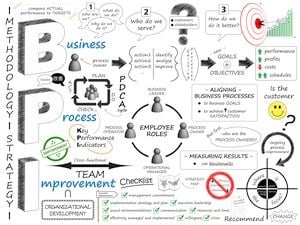 Chances are, if you're running a small business, Intuit QuickBooks is the accounting software your business counts on every day. And QuickBooks order management is an integral part of your business operations. Online publication Chicago Now, in an article written by Michal Clements on April 14, 2015, says, "Intuit QuickBooks operates in the small business market, sized at approximately 29 million businesses in the US, and it has more than 80% market share with small businesses that use financial management software."
Many of these small businesses are manufacturers, wholesalers, and distributors, who have a need for a more robust order management system. While QuickBooks is great for accounting, these businesses are in need of an order management system upgrade to keep up with their operational needs and advancing technology.
Small businesses operate naturally on a lean methodology, so the process of transitioning to a new way to facilitate ordering, must include lean principles. In this regard, let's explore lean QuickBooks order management for small businesses.
About Lean
According to online publication Lean Enterprise Institute, in an article called, "What is Lean", we learn the founders of the Institute, Jim Womack and Dan Jones, coined the term "lean". They used this to describe the characteristics of a lean organization and supply chain in a book called Lean Thinking; published in 1996.
Eric Ries built upon this lean thinking when he expounded with his 2011 book called: The Lean Startup: How Today's Entrepreneurs Use Continuous Innovation to Create Radically Successful Businesses.
Many businesses have benefited by the principles and theories presented in these books. Although, seemingly a basic common sense approach, applying lean thinking into everyday business processes isn't so easy. For small businesses with fewer resources, lean thinking is a must to survive.
Small Businesses and Lean Thinking
Everyone can see, in some measure, how technology is changing the way businesses operate, as well as the way people live and think. Cloud computing, mobile technology, Wi-Fi, shrinking global marketplace, ecommerce, and more variables – are changing business processes and the way consumers shop.
What this means for wholesalers, distributors, and manufacturers, is a need to find simple solutions for complex problems. In other words, trying to keep processes simple and lean, while still meeting your customers' expectations. Lean thinking for small businesses in this case is: finding an order management system upgrade without a total transformation of your business's systems.
Your products are quality and in demand, the prices are right, customer service is excellent, QuickBooks is taking care of the accounting, and marketing efforts are working. The only weak link at this point is an integrated solution for order management.
Lean QuickBooks Order Management Upgrade
Once the owners and managers pin-point the weak area of their business's processes, lean thinking will dictate a simple solution needs to be found. In the case of manufacturers, distributors, and wholesalers; this weak point is their QuickBooks order management system. B2B ordering needs an upgrade, due to how technology is changing the way people order.
Cloud computing, SaaS, mobile shopping from apps, growing Internet access world-wide, online shopping trends, and more – are all converging to bottleneck ordering systems. A smooth flowing, integrated order management system is needed to meet growing customers' needs and expectations, due to these technological innovations.
Therefore, a lean order management system upgrade is one with:
Real-time, two-way integration with QuickBooks
Anytime/anywhere access
Warehouse integration
Customer portal with detailed inventory and order information
Sales rep portal with detailed inventory and order information for each account
Configurable options to adjust to unique business needs
SaaS with phone and email support
Free setup
Affordable monthly price
Business insights and remote management capabilities
Simple add-on to QuickBooks
These are the important qualities of the upgrade needed, which embody lean thinking for small businesses. Sales reps and B2B customers will have better access, complete ordering information, complete inventory information, and can then streamline their ordering processes.
Summary
While lean thinking is intrinsically interwoven into a successful small business's mentality, brushing up on the concepts won't hurt. Honing your focus on simplicity, while developing strategies to meet complex problems – will only enhance business processes in the end. In the case of lean order management, finding a simple SaaS add-on that integrates seamlessly with QuickBooks, is about as lean as it gets.
Transitioning into this rapidly advancing technological world, doesn't require you to abandon the principles of yesteryear. Rather, a sound and precise approach in adapting necessary functions, should provide opportunity to become more lean than the competitor. Simplicity is always attractive, and lean thinking is nothing more than this.