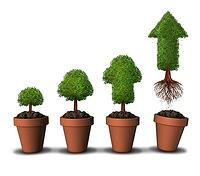 Wholesale businesses working on small budgets know how important it is to streamline processes. Order management processes are no exception. An online ordering system for your sales reps and B2B customers can be one of the quickest and easiest ways to save time, increase customer satisfaction, and allow you to focus on growing the business.
An online ordering system that is specifically designed for wholesale businesses and integrates with QuickBooks is an effective tool for staying efficient and organized. It reduces data entry time and errors, reduces inquiries from reps and customers, and helps define and modernize your order management process.
Businesses want to know that when investing in software they see a positive impact to their bottom line.
So, what are the biggest paybacks?
Productive Sales Staff
When hiring more people isn't an option you can make your current employees more productive and efficient. An ordering system gives your inside and outside sales team an effective tool to meet the demands of their job and answer customer questions on the spot. They can enter an order from anywhere using any device. They can watch the status of the order as it travels through the fulfillment process. They can see real time inventory status to reduce backorders. They have access to order and payment history. They no longer have to call the office or warehouse and wait for answers. It is all in the order system.
Independent Customers
With an online ordering system, customers have access to their own customized order form, and have the ability to enter their own orders. The orders they place online will go into QuickBooks without data entry with the format and timing that you choose. If your customers have questions concerning their pricing, inventory, product specs, shipments, past orders, payments, or credits, they can answer their own questions 24/7.
Giving customers access to this information also frees up your independent sales reps and office staff. They no longer have to stop what they are doing to answer simple questions from their customers.
Efficient Order Processing
Both sales reps and customers will be able to place orders at any time. The order information is then automatically transferred directly to QuickBooks. This eliminates the task of re-entering order information into your accounting software, a time-consuming step that could potentially be prone to human error. This keeps your order process humming along and reduces the number of incorrect orders that could result in product returns, refunds, and even the loss of customers.
Warehouse Integration
Integration with your 3rd party warehouse (3PL) is another great and inexpensive way to streamline your order process. Integrating your QuickBooks with your warehouse's software makes communicating with them accurate and efficient. You can instantly transmit orders to the warehouse, view pending and completed shipments, and see tracking information and shipping cost info. This integration can also be used for your shopping cart orders and QuickBooks. Your customers, inside staff, and outside sales reps can see shipping info and tracking numbers in the online ordering system.
With self-sufficient sales reps and customers, you can finally do what's most important and focus on growing your business. An affordable and effective online ordering system gives your reps and wholesale customers the info they need and will result in more efficient order processing and fulfillment. This can allow you to grow sales without adding additional employees.