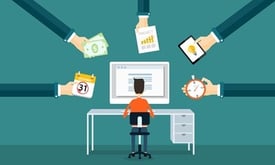 "If you don't have the time to do it right, when will you have the time to do it over?" John Wooden
If your customer order management procedures are causing order errors, late deliveries, customer dissatisfaction and a host of other problems, you and your employees may be spending a lot of time doing things over. According to The Supply Chain Council, the definition of perfect order fulfillment is "the percentage of orders meeting delivery performance with complete and accurate documentation and no delivery damage."
That definition helps identify three common challenges that wholesalers, manufacturers, and distributors face today. First, is how to manage and sense demand accurately. Second, is the ability to respond to changing customer order delivery expectations. Third, is the ability to accurately promise dates based on fulfillment planning lead times and estimates. These challenges are presenting companies with a startling reality, "how effectively they manage their order and fulfillment process directly effects their business's success and survival."
While many business owners and executives think that these issues are unique to their organizations, the fact is businesses across the spectrum of wholesale, distribution, and manufacturing face the same supply chain challenges. Every business is now realizing that managing their fulfillment processes is becoming multi-faceted and certainly more complicated. All this is happening at the same time that customer demands and expectations are intensifying and order processing windows are narrowing.
A key area for businesses is understanding your customer and managing that customer demand effectively. Accurately capturing your customer's orders is critical to effective order fulfillment and management. Many companies continue to work with complex, fragmented order management processes with multiple, disparate order capture and fulfillment systems. Working in this type of environment makes it difficult to get a single view or complete picture of your customer.
You are not unique if it seems that you are facing these same challenges with your current customer order management procedures. However, do not despair, there are solutions out there, let us look at what an efficient, integrated customer order management system will do to improve your business' bottom-line and protect your competitive advantage.
Accurate Forecasting
The advanced demand capabilities of customer order management significantly improve the ability to manage erratic product demand and realize higher forecast accuracy. Two capabilities that augment accurate forecasting are demand sensing and shaping. With a multi order channel system, it is difficult to capture customer purchase data in order to forecast future product demand. When order capturing is integrated, data is visible and businesses have the information readily available to develop a more accurate forecast for future demand.
Correct Order Promising
To meet mounting customer expectations, businesses across all industries must increase their on-time deliveries, enhance the consistency and accuracy of their promises to customers, and manage their responsibilities to key customers. By merging dynamic, real-time data-driven processes with manufacturing, supplier, and logistics constraints, businesses can quickly and reliably promise order fulfillment with processes that improve customer service levels and satisfaction.
Acceptable Fulfillment
For many businesses, order complexity is a key challenge when managing orders and their fulfillment. This difficulty in managing orders efficiently and accurately has been caused by a number of factors, including the use of multiple order capture and fulfillment legacy systems that many companies have in place. To eliminate these silos and give organizations a holistic view into the order operations, an order management solution cuts through the business' current order process complexity and creates a centralized view.
Success in order management and fulfillment hinges on the ability to make quick decisions and the continuous monitoring of the impact of those decisions at all levels of your business. This can be achieved with customer order management software, capable of instituting best-practice processes across all facets of your order management and fulfillment procedures.